Apprentice 2.0
Verified Provider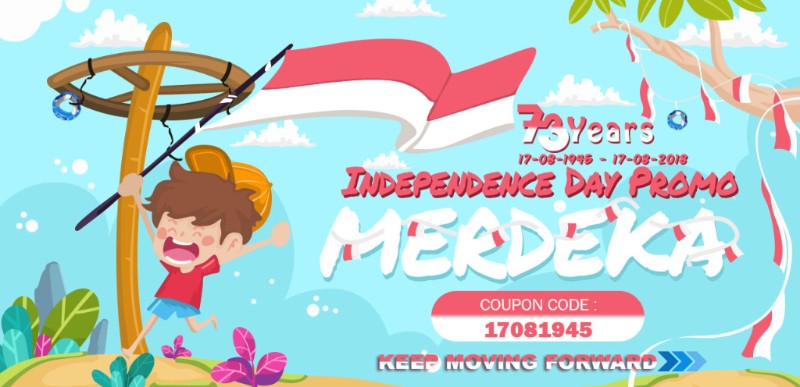 Dirgahayu Republik Indonesia ke-73 yang akan datang besok!
Berbanggalah sebagai orang Indonesia dan mari bernostalgia dengan Keberaniannya!
Sebagai orang Indonesia, kita harus bangga dengan setiap identitas kita sebagai salah satu negara terbesar menurut populasi di dunia. Sifat, bangsa, budaya, dan sejarah kita memiliki begitu banyak keragaman yang tidak bisa ditiru oleh bangsa lain. Untuk mencapai titik ini, pahlawan nasional kita telah berjuang hidup mereka untuk memberi kita sebuah bangsa yang bebas dari perang dan kolonialisme.
Dalam semangat yang berkesan di Hari Kemerdekaan ke-73, WINNERvps mempersembahkan "Semangat Kami", yang berarti bahwa kita dapat menjadi Juara atas Diri Sendiri di Pusat Data Sendiri di Indonesia, melayani Klien kami di Indonesia yang tidak perlu lagi mengarahkan lalu lintas dari dan ke luar Indonesia (melalui Internasional).

Jika yang Anda maksud harga dan kualitas "local" tidak dapat bersaing dengan Penawaran "Internasional", Mari kita lakukan!

1 GB RAM - 2,048 MB Swap - 25 GB SSD - 2 vCPU -
70k
https://winnervps.com/cart.php?a=add&pid=213
2 GB RAM - 4,048 MB Swap - 50 GB SSD - 2 vCPU -
140k
https://winnervps.com/cart.php?a=add&pid=214
4 GB RAM - 8,192 MB Swap - 75 GB SSD - 2 vCPU -
280k
https://winnervps.com/cart.php?a=add&pid=215
8 GB RAM - 8,192 MB Swap - 150 GB SSD - 2 vCPU -
560k
https://winnervps.com/cart.php?a=add&pid=212

https://winnervps.com/cart.php?gid=27

Lokasi:
Cyber 2 Tower - CBN (Nex Data Center)
Jl. HR. Rasuna Blok X-5 No. 13
Jakarta 12950
Upstreams:
:
- Level3 (AS3356)
- Cogent (AS174)
- NTT (AS2914)
- TATA (AS6453)
- Teliasonera (AS1299)
- Tinet/GTT (AS3257)
- PCCW (AS3491)
- Starhub (AS4657)
- SingTel (AS7473)
- GCX/FlagTel (AS15412)
- Telstra (AS4637)
Public Exchange:
:
- SGIX
- Equinix SG
- Equinix HK
- HKIX
- Equinix Tokyo
- BBIX JP
- JPIX
- JPNAP Tokyo
- AMS-IX
- LINX London
- SIX US
Public Local Exchange:
:
- IIX
- OpenIXP
- C2IX (Biznet, Linknet, Moratel, Icon+)
Terms & Condition
Promo valid during the period of 16 August 2018 - 23 August 2018
Discount Valid for All Jakarta Linux Products with monthly billing cycle.
Limited to the IP address, vCPU, and Dedicated CPU (can't be upgraded). You can still upgrade the package (to next higher package) during promo to enjoy the promo pricing.
The shopping cart is exclusive and limited. No where to find in the website.
The transaction could only be paid using Indonesia's Local Bank Transfer.
Enter the Promocode: 17081945 during checkout.
By following this promo, the user is deemed to understand and agree to all applicable terms and conditions.